New JoomSport Pro version (for Joomla! 2.5 and Joomla! 3.0) besides bug fixes contains one new feature and several improvements.
We are pleased to introduce the new Club section. It allows specifying the Club details and uploading venue photos. This option will be useful for managing real sports, where several teams belong to one Club.
-Ability to Copy the Season with all settings and Participants
-Ability to print Season table layout
-Team Membership on the Player profile page
-Match management improvement (Ability to specify Venue via MatchDay view)
-Venue in the Next Matches module
-Your team feature in the Season table module - Now only rows nearby Your team can be displayed in the Season table module: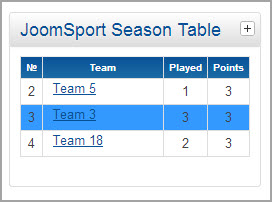 -Ability to edit country name, that is displayed on Player profile page.
-Other functional improvements and enhancements.
Please, explore the features on our JoomSport Professional demo site or compare editions in JoomSport features list.
Season Greetings and JoomSport sale.
BearDev team brings very warm Season greetings and placards End year Sale!!!

Only till 31st December you can get any JoomSport Pro license with 20% discount.
Enjoy JoomSport Pro features for less price.
Congratulations on Christmas and New Year 2014! Joy and peace to you and your families!
Kind regards,
The BearDev team.